Our second installment is aimed at babies who are at the crawling, wobbly, walking stage – so many toys to choose from out there but what are our and your recommendations for favourites in your house
1. Vtech walker – top of the list this was in almost every comment and I know Ruby got great mileage out of hers in more ways than one

2. I'm putting our favourite in at number 2 – every single child loves this toy when they come into our house even now…the little tikes activity garden
3. mega blocks building table
4. fisher price learn and play car
5. Ball pit – I threw all the balls into her travel cot and she was entertained for hours in there
6. Little tykes cozy coup car
7. Paw patrol Marshall ride on or any sort of ride on!
8. Fisher price front door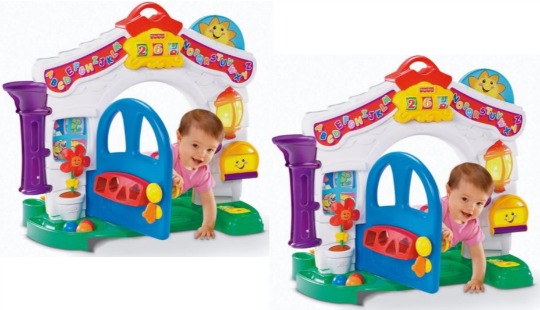 9. Toot toot drivers
10. scuttle bug
11. Books – my favourite gift for any child! Anything by Julia Donaldson is a big hit in our house. I see TheBookPeople.co.uk have some fantastic value on sets of books at the moment. Ruby's favourite book at that age was;
12. dolly & buggy – the fisher price my first doll and buggy set was a firm favourite for us.
13. jumperoo came up so many times in your recommendations
14. fisher price seat – another favouite from about 12 months in our house
15. fisher price tea set
16. Bounce and Spin zebra from Fisher price  – we never had this one but I know it was a big hit with other kids in my baby group
17. Beat Bow Wow or Beat Bo seem to be best sellers this year – again Fisher price, you just cannot go wrong with fisher price can you?
What else would you add?