We recently sent out some of our samples of the new product to some mums to see what you think. Laura from The Mamma Fairy Blog offered her services and her 3 year old so we were thrilled to see what an older child thought of the product. A key thing for us in developing this range was to ensure it felt nice a soft, it fitted well but not too snugly and is something a child up to age 4 can and will want to wear.
Here's the feedback;
Overall
It gets a big thumbs up from us, the 3 year old has used it most nights since we received it and he is fussy!! I would most definitely would buy for my own kids or as a gift.
How did it fit?
My son is almost 3 and a half and size wise the fit is perfect, he still has plenty room and its not tight or anything around the shoulders.
My only comment is getting into it, ideally the zip would need to come down a good bit more if it all possible.  I know you said it would come down a bit.. He is so active and will not sit still and i had to battle to wriggle him down it but once in it no hassle at all. (The sample has a zip that is too short, we intend to have it almost full length in the released product).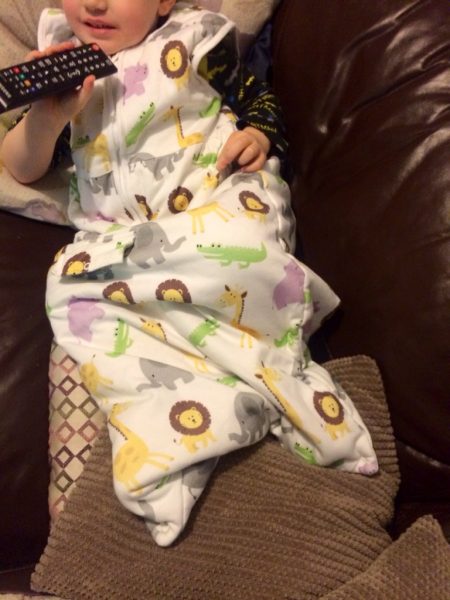 What about the design and fabric?
I liked the feel of the fabric and so did he.  I know you mentioned about the graphics being deeper but i didn't have any issue with them as they are.  Its been washed 4 times (once at a 90c cycle after he was sick) and no problem its been very durable. This is really important to me in anything to do with kids as their stuff tends to get washed a lot!! so full marks for that aspect and for me its quite key.  Little man had same tummy bug and the Penneys one didnt fare as well in a 90.  I know its not recommended to wash at that temp but with tummy bug in the house i wanted to get rid of it!!.
Was he too warm or cool?
Heat/ tog – ideal, heard no complaints of too hot or cold from the little man.
Other comments?
Loved the way it can be clipped up or down as they get older- i can imagine I will get many years use between my 2 kids.
Would you pay €39 including courier postage for the product?
Re the price, yes I would pay that based on the quality and the fact that I would get years from that size of one 18-48 months. its not much when you consider how long id use it for.
We should have all sizes in stock by the end of the month hopefully – buy it here