As parents, we know how important it is to keep our little ones comfortable, happy, and oh-so-stylish! That's why we're thrilled to introduce you to our game-changing DribbleBoo Bandana Bibs – the secret weapon for upgrading your baby's style game!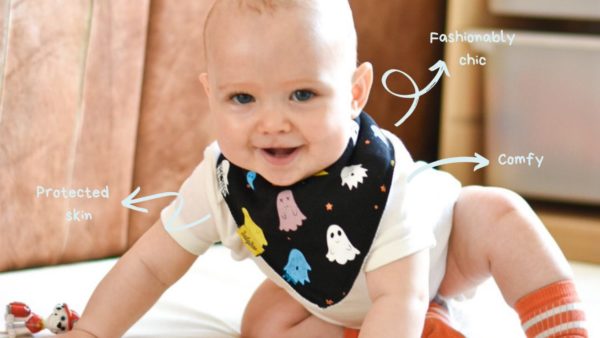 In BabyBoo you can find a bib for every baby outfit. With an array of delightful designs and prints, our DribbleBoo Bandana Bibs are the perfect accessory to match with your baby's adorable wardrobe. From charming stars to playful cars, cute animals to the wonders of nature, we have a wide variety of themed bibs in an array of colors.
Dressing your baby has never been this much fun! Our diverse prints aren't just about style; they're about nurturing your baby's curiosity, imagination, and interests. These bibs serve as tiny canvases for your little one's growing mind, encouraging exploration of the world around them.
But they are not just cute looking, they are the perfect example of absorbency and comfort. We understand that dribbles are an integral part of your baby's daily routine, especially during the toddler stage. That's why our DribbleBoo Bandana Bibs are engineered with three layers of excellence. The front and back layers consist of 100% GOTS certified organic cotton, delivering gentle protection for your baby's sensitive skin. In the middle, you'll find hypoallergenic fleece that expertly absorbs liquids, ensuring your baby's clothes stay dry.
No worries, we've thought of everything! These bibs come with an additional layer of fabric that can be folded inside the neck area. This thoughtful design not only enhances comfort but also prevents dribbles and water from causing irritation under your baby's chin.
Honestly, it's not just us who adore DribbleBoo Bandana Bibs – they're a hit with parents, caregivers, and, most importantly, your little one! These bibs effortlessly combine utility with style, making them a must-have for any fashionable baby. Discover the joy of dressing your baby in DribbleBoo Bandana Bibs. Our wide variety of designs ensures that you'll always find the perfect match for your baby's outfit, elevating their style to new heights.
With our DribbleBoo bandana bibs, your baby will not only look protected and comfy but also fashionably chic.
Get ready to embark on a stylish adventure with our DribbleBoo Bandana Bibs – the key to your baby's fashion-forward journey! Explore our collection here and join our newsletter for all our news.